Welcome to Police Chaplains Ministry
Serving active and retired men and women of the Chicago Police Department and their families
***
Socius corpus custodit... Animam custodimus
Your partner has your back, but we've got your soul.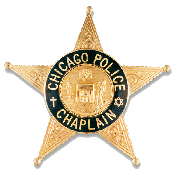 Upper Room Club UPDATE:


Lois and Chuck, Upper Room Club "regulars," really miss seeing the gang at Pizano's. So they very generously offered to host us in their yard on the northwest side (Canfield/Higgins).

Date: Tuesday, 15 JUN (

weather permitting

)
Time: 6:00 p.m.
Bring: a lawn chair if you have one.

Burgers and sausages will be served. If you'd like to attend, please email me back for the address and so we can arrange guests bringing chips/sides/wine/pop.



I look forward to breaking bread and sharing faith! Thank you, Lois and Chuck!!
Over the course of 24 hours, Robert Swiderski will run 80 miles from one CPD district to the next, to raise funds and awareness for mental health resources to benefit our officers.



The run begins at the 008th District station at 10:00 a.m. on June 19th.



Please support this amazing cause by making a donation here...

https://give.cpdmemorial.org/fundraiser/3185230
Come Celebrate


CPD

Fathers' Day Mass at Gold Star Families Memorial and Park




Sunday, 20 JUN 2021 10:00am

(WEATHER PERMITTING)



All active and retired CPD members, Gold Star Families, Chaplains Ministry supporters, and their families are welcome...as is the public.

Mass will be finished by 10:30 for the sake of on-duty worshipers on their lunch break.

While this is a Catholic Mass, ALL are welcome to honor dads/grandfathers/father figures whose names are inscribed on the walls of the CPD memorial.

Bring a lawn chair or blanket...and a picnic lunch if you'd like to stick around. While norms have been relaxed, social distancing will be encouraged. If you plan to receive Communion, please bring hand sanitizer and a mask.



This is a weather-permitting event

. IN CASE OF INCLEMENT WEATHER, call Fr. Dan Brandt, CPD Chaplain, at 773-550-2369 for status.

Ample free parking is available on Museum Campus Drive. Uniformed CPD officers will direct you.



If you are unable to attend you can watch it Live Streamed on the

CPD Facebook page.
A Couples Training Event for Active and retired CPD members
Date: Friday, 08 OCT – Monday, 11 OCT
Location: Eaglewood Resort and Spa, Itasca, IL
Click >>HERE<< for more information
We Are All In This Together
Photo Album
Video Library

Click HERE for Police Chaplains Ministry Video Library
POLICE WORK
"The credit belongs to those who are actually in the arena, who strive valiantly; who know the great enthusiasms, the great devotions, and spend themselves in a worthy cause; who at best know the triumph of high achievement; and who, at worst, if they fail, fail while daring greatly, so that their place shall never be with those cold and timid souls who know neither victory nor defeat."
― Theodore Roosevelt
1858 - 1919
Since our website's inception on 01 JAN 2012, you are unique visitor #