Welcome to Police Chaplains Ministry
Serving active and retired men and women of the Chicago Police Department and their families
***
Socius corpus custodit... Animam custodimus
Your partner has your back, but we've got your soul.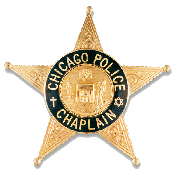 Chicago Police Memorial Foundation


Fundraiser 21 FEB at Portillo's
Click >>HERE<< for more information
Kendra Gives Back event in honor of Officer Samuel Jimenez
20% of all purchases from l-4PM will benefit the Jimenez Family.
Enjoy sips and sweets and shop the collection Crystal Jimenez
designed in honor of Officer Jimenez.

All store purchases will go towards the give back. Can't make the
event? Place your order over the phone with free shipping!
Saturday, February 23rd
1:00pm - 4:00pm
Kendra Scott Old Orchard
4999 Old Orchard Center, Skokie, IL 60077
Call: (847)410-1022

Alarming number of officer suicides prompts outreach in Chicago
We are remembering a special intercession of Our Lady of Sorrows and St. Michael, the Archangel as a tribute to ALL FIRST RESPONDERS from Our Lady of Sorrows Basilica Parish.
Sunday March 3rd at the 10:30 a.m. Mass at
Our Lady of Sorrows Basilica Parish Church,
3121 West Jackson Blvd. Chicago, Illinois 60612
A light reception of coffee and cake will be offered in the Parish Hall following the Mass.
For more information, please contact the Parish Office at 773/638-0159 ext. 10
Man to Man Presents:
"Ministering to the Front Line: the Work of a Chicago Police Department Chaplain" with Rev. Daniel Brandt
Saturday, March 9
St. Norbert's Grace Hall, 8:00am
Click >>HERE<< for more information
Fr. Dan Brandt is named "MAN OF THE YEAR" for K of C Police Council #12173
Click >>HERE<< for more information.

POLICE WORK
"The credit belongs to those who are actually in the arena, who strive valiantly; who know the great enthusiasms, the great devotions, and spend themselves in a worthy cause; who at best know the triumph of high achievement; and who, at worst, if they fail, fail while daring greatly, so that their place shall never be with those cold and timid souls who know neither victory nor defeat."
― Theodore Roosevelt
1858 - 1919
Since our website's inception on 01 JAN 2012, you are unique visitor #