Welcome to Police Chaplains Ministry
Serving active and retired men and women of the Chicago Police Department and their families
***
Socius corpus custodit... Animam custodimus
Your partner has your back, but we've got your soul.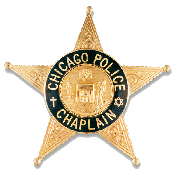 CPD's third suicide in recent weeks spotlights need for mental health awareness among officers.
Our Lady of Victory Parish at 5212 W Agatite Ave, Chicago, IL 60630, Chicago, IL 60630 on the northwest side offers Eucharistic Adoration every day Monday through Saturday, 8 am -8 pm.

Stop in for a few minutes or an hour as your schedule permits to pray for peace between borders, on our streets, in our homes and in our hearts!

Blue Mass


Date: Sunday, 04 NOV 2018
Time: 1000 Hours (10:00 am)
Location: St. Thecla Parish
6725 W. Devon Avenue Chicago, IL 60631

Bigs in Blue campaign




Connecting Youth and Police Through Mentoring




Bigs in Blue is a one-to-one mentoring program brought to you by Big Brothers Big Sisters of Metropolitan Chicago (BBBSMC) that connects Chicagoland youth with police to build strong, trusting and lasting relationships.


Change a child's life for the better, forever
Ammie Kessem
Police Officer Ammie Kessem is running for State Representative of the 19th legislative district. Amelie has been serving the City of Chicago for 19 years. Please support this sister in her pursuit to now serve our state.

POLICE WORK
"The credit belongs to those who are actually in the arena, who strive valiantly; who know the great enthusiasms, the great devotions, and spend themselves in a worthy cause; who at best know the triumph of high achievement; and who, at worst, if they fail, fail while daring greatly, so that their place shall never be with those cold and timid souls who know neither victory nor defeat."
― Theodore Roosevelt
1858 - 1919
Since our website's inception on 01 JAN 2012, you are visitor #