Welcome to Police Chaplains Ministry
Serving active and retired men and women of the Chicago Police Department and their families
***
Socius corpus custodit... Animam custodimus
Your partner has your back, but we've got your soul.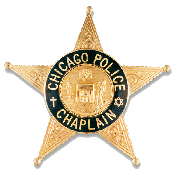 Blue Mass


Date: Saturday, 29 SEP 2018
Time: 1730 Hours (5:30 pm)
Location: St. Ita Church
5500 N. Broadway Chicago, IL

Blue Mass


Date: Wednesday, 10 OCT 2018
Time: 1800 Hours (6:00 pm)
Location: St. Mary of Perpetual Help Parish
1032 W. 32nd Street Chicago, IL

Mass at Nativity of Our Lord Church


Date: Sunday, 21 OCT 2018
Time: 1100 Hours (11:00 am)
Location: Nativity of Our Lord Church
653 West 37th Street Chicago, IL 60609
Celebrate the 150th anniversary of the parish. Fr. Dan Brandt's old parish.

Blue Mass


Date: Sunday, 04 NOV 2018
Time: 1000 Hours (10:00 am)
Location: St. Thecla Parish
6725 W. Devon Avenue Chicago, IL 60631

Bigs in Blue campaign




Connecting Youth and Police Through Mentoring




Bigs in Blue is a one-to-one mentoring program brought to you by Big Brothers Big Sisters of Metropolitan Chicago (BBBSMC) that connects Chicagoland youth with police to build strong, trusting and lasting relationships.


Change a child's life for the better, forever

POLICE WORK
"The credit belongs to those who are actually in the arena, who strive valiantly; who know the great enthusiasms, the great devotions, and spend themselves in a worthy cause; who at best know the triumph of high achievement; and who, at worst, if they fail, fail while daring greatly, so that their place shall never be with those cold and timid souls who know neither victory nor defeat."
― Theodore Roosevelt
1858 - 1919
Since our website's inception on 01 JAN 2012, you are visitor #