Welcome to Police Chaplains Ministry
Serving active and retired men and women of the Chicago Police Department and their families
***
Socius corpus custodit... Animam custodimus
Your partner has your back, but we've got your soul.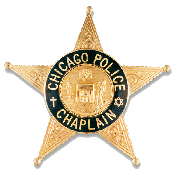 Rest In Peace, Commander Paul Bauer. You are a true Chicago hero. We love you.
Click >>
HERE
<< for CPD video unit tribute to Commander Bauer
Police Chaplains Ministry Happy Hour fundraiser
On Thursday, 14 June, Dugan's (128 S. Halsted ) will host Police Chaplains Ministry for a Happy Hour fundraiser with food and open bar from 6-8 p.m. $30 admission includes full bar and grub. For tickets, please contact me or Det. Gia DiVito

(gia.divito@chicagopolice.org). You're guaranteed a good time in great company!



June 14th is Flag Day…so please wear

red

/

white

/

blue

or something patriotic!

Like ME!
The CHER Show Tickets


The Police Chaplains Ministry is sponsoring the Pre-Broadway World Premiere of The CHER Show.


Date: Tuesday, 19 JUN 2018
Time: 1930 Hours (7:30 pm)
Location: Oriental Theatre 24 W Randolph Chicago, IL
Tickets: $135 (Orchestra seating)

A

BLUE MASS

will be offered at

Resurrection Catholic Church (3043 N. Francisco)

on Sunday, 15 JUL, at 11:15 a.m. Come join fellow officers, retirees, families and police supporters as we pray for a peaceful summer in Chicago.

Heartbreak Hotel Tickets


The Police Chaplains Ministry is sponsoring yet Another Night at the Theatre! with Heartbreak Hotel.


Date: Thursday, 9 AUG 2018
Time: 1930 Hours (7:30 pm)
Location: Broadway Playhouse at the Water Tower Place
175 E Chestnut Chicago, IL
Tickets: $110

Bigs in Blue campaign




Connecting Youth and Police Through Mentoring




Bigs in Blue is a one-to-one mentoring program brought to you by Big Brothers Big Sisters of Metropolitan Chicago (BBBSMC) that connects Chicagoland youth with police to build strong, trusting and lasting relationships.


Change a child's life for the better, forever
Very recently, on the occasion of the shooting of an ATF agent in Chicago, a local woman with no credentials misrepresented herself as a CPD Chaplain in order to gain access to the agent at Stroger Hospital of Cook County.

While we don't know her motives, we thank the police force at Stroger, who recognized the impersonator and escorted her out of the hospital. This individual has a history of such misrepresentation. For more information, please see our notice at the bottom of the "Meet your Chaplains" page, originally posted in October of 2014.
POLICE WORK
"The credit belongs to those who are actually in the arena, who strive valiantly; who know the great enthusiasms, the great devotions, and spend themselves in a worthy cause; who at best know the triumph of high achievement; and who, at worst, if they fail, fail while daring greatly, so that their place shall never be with those cold and timid souls who know neither victory nor defeat."
― Theodore Roosevelt
1858 - 1919
Since our website's inception on 01 JAN 2012, you are visitor #