Photo Album for 2012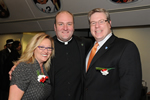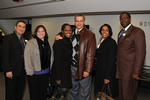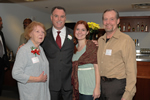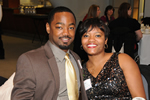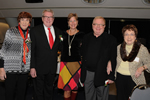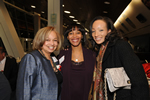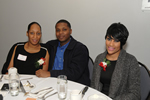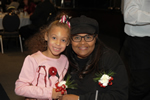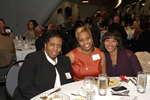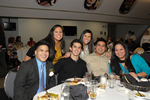 Gold Star Families certainly enjoyed the 2012 Christmas dinner hosted by Police Chaplains Ministry! A few hundred family members of Chicago Police Officers who died in the line of duty gathered for fun and an elegant meal at Soldier Field's Club Level. Thank YOU, our donors, who were their real hosts!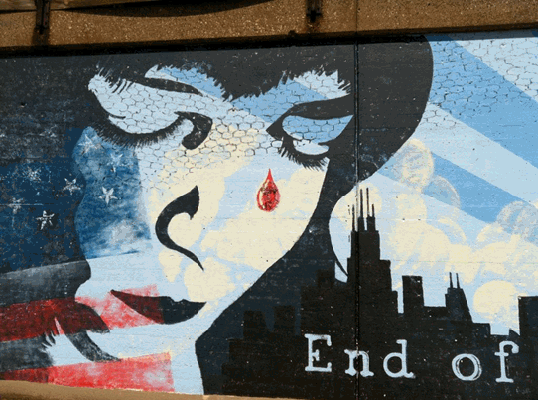 This beautiful mural painted on railroad grade wall at 4700 W. Montrose in 017 lists ALL Chicago P.O.'s who have died in the line of duty. In the teardrop on the woman's face is a likeness of ET Mike Flisk (Star 6962, EOW 27 NOV 2010). May he rest in peace, and may we never forget him or the hundreds of others who have made the ultimate sacrifice!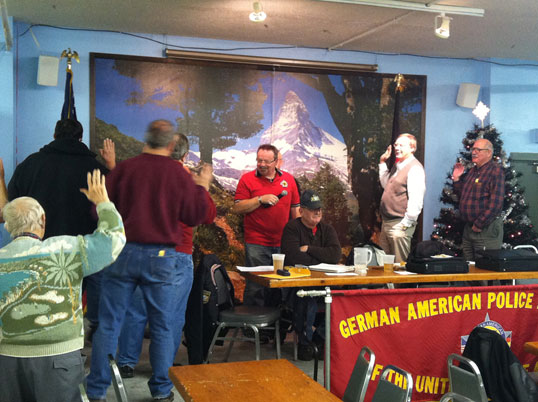 Swearing in of new German American Police Association officers on 11 DEC 2012. See APA'ssnternet link on our links page.internet link on our links page.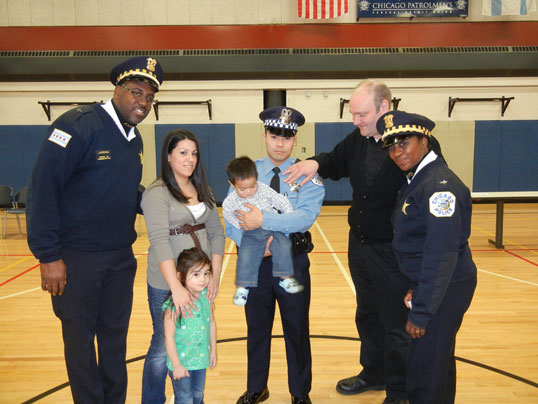 Chaplains Joe Jackson, Kimberly Lewis-Davis and Fr. Dan Brandt blessed several dozen newly-issued CPD stars at the Star Ceremony at the Training and Education Academy on 10 DEC 2012. Here, new recruit Jazzy Pedregosa's star is blessed in the presence of Jazzy's wife, Carrie, and their two children. God bless Class 12-1, their instructors, and all of our CPD brothers and sisters!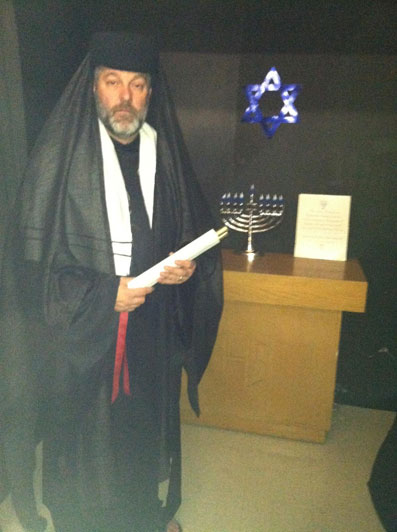 Retired Chief Matt Tobias in his new role: Micah the Prophet (in a Christmas play at his church 09 DEC 2012). The beard is real; he grew it just for the play.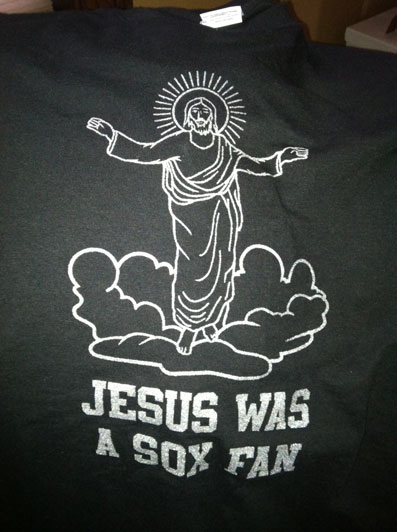 The gift of a t-shirt to Fr. Dan Brandt from PO Tom Gaynor. Cub fans: the truth will set you free.
Inaugural
Toy Drive
The CPD Enforcers and Chaplains Unit are teaming up for an inaugural Toy Drive.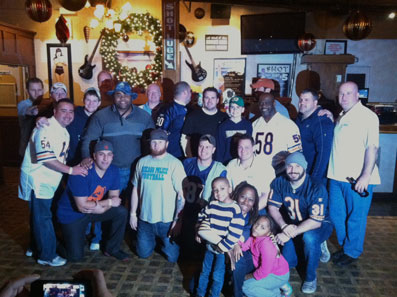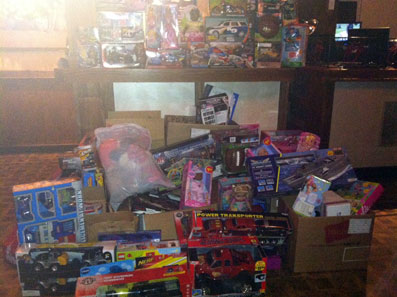 The Chicago Police ENFORCERS football club teamed up with the Chaplains Unit to host a toy drive on Sunday, 09 DEC 2012. As you can see, hundreds and hundreds of toys were collected, making the holiday season a little brighter for some of Chicago's less fortunate families.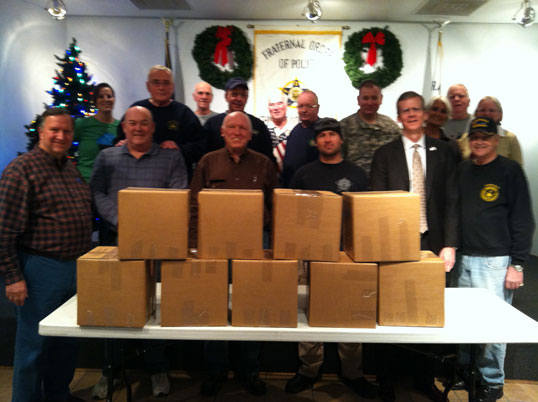 Volunteers, under the direction of CPD Explosives Tech Dominick Kearns (a US Marine who served three tours in Iraq/Afghanistan), stuff Christmas care packages for CPD members who are US Armed Services Reservists currently forward-deployed to combat zones. This took place at the FOP hall (THANK YOU, FOP!) on 05 DEC 2012...so our troops should receive their top-notch gift boxes by Christmas. May God bring them home safely and promptly!
Back to top of the page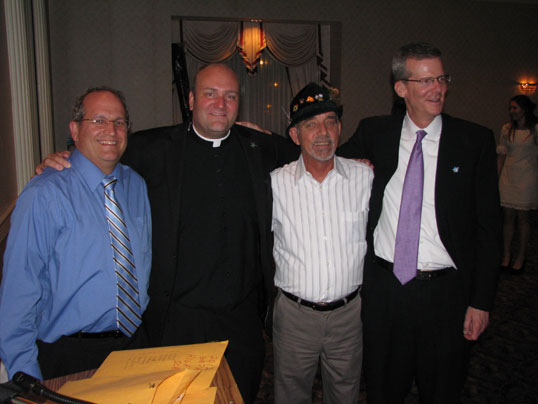 Some laughs are shared at the annual German American Police Association (GAPA) Oktoberbest banquet 19 OCT 2012.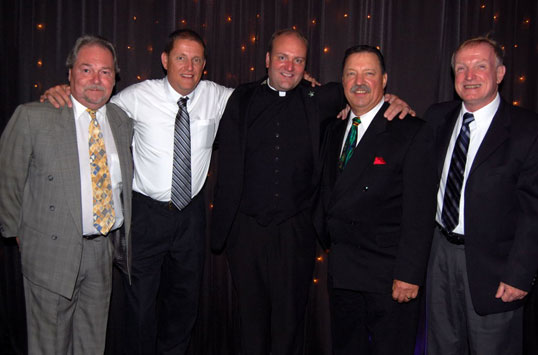 Fr. Dan Brandt and a group of esteemed CPD retirees enjoy a dinner at the City Colleges of Chicago Teachers' Union banquet in September 2012.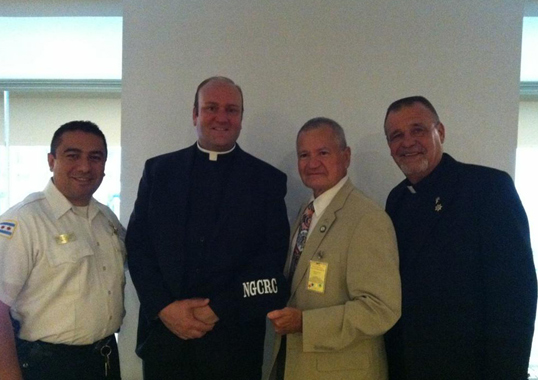 The National Gang Crime Research Center presents awards to those involved in police ministry at their annual
convention in downtown Chicago on 24 JUL 2012... Pictured here are (L-R) CPD Chaplains Robert Montelongo and Fr. Dan Brandt, Cook County States Attorney Investigator Fred Moreno, and Rev. James Lewandowski.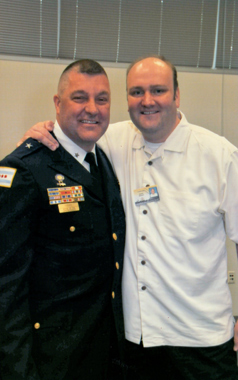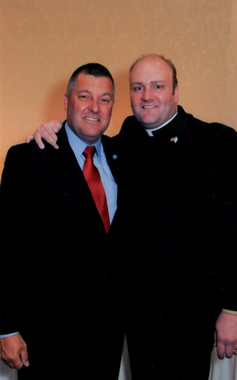 Deputy Chief Matt Tobias retires from CPD after a stellar 25-year career. Join us in wishing and praying for a happy retirement and successful future endeavors!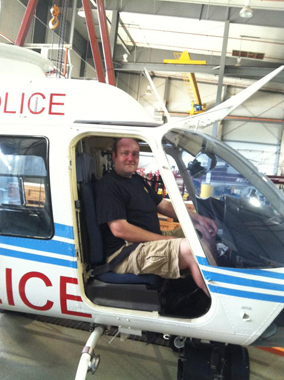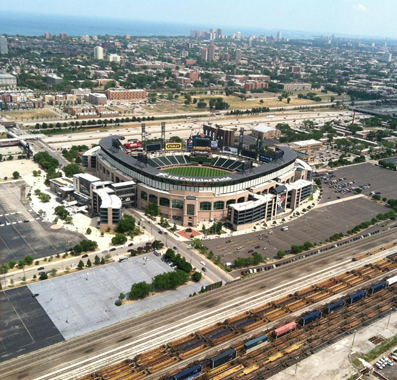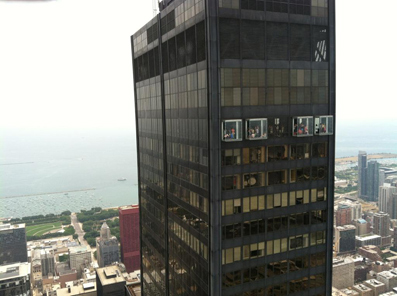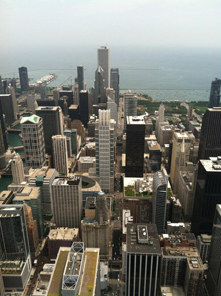 Fr. Dan Brandt rides with PH-1 on routine patrol 03 JUL 12. Much of their patrol time was spent in districts 005, 009 and 022... but as you can see, a trip through downtown was inevitable. Notice the folks waving at us from the observation deck at the Willis (FKA Sears) Tower.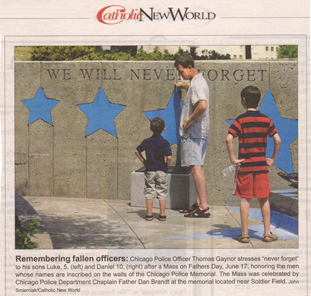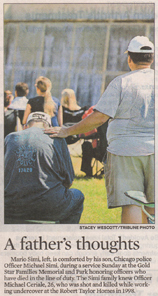 Some nice coverage of our Fathers' Day Mass from the Catholic New World (July 1) as well as the Chicago Tribune (June 18). Local television stations also reported on the occasion.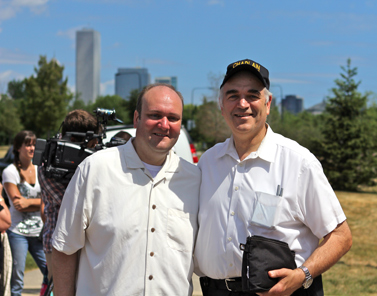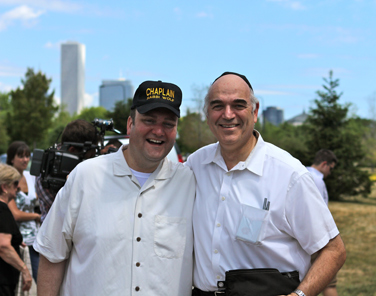 In a light moment after the Fathers' Day Mass on 17 JUN 2012 at Gold Star Families Memorial and Park, Fr. Brandt swipes the hat of Rabbi Moshe Wolf. His defense? "I needed it to protect my Irish scalp from sunburn!"
Back to top of the page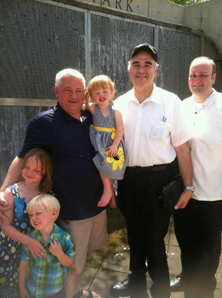 Commander Gene Roy with his grandkids, along with Rabbi Moshe Wolf and Fr. Dan Brandt, following the Fathers' Day Mass at Gold Star Families Memorial and Park on 17 JUN 2012.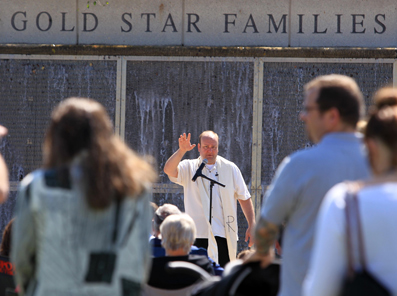 Final blessing at the Fathers' Day Mass at Gold Star Memorial Park on 17 JUN 2012. Rain was predicted, but Mother Nature came through for us! Photo credit: Chicago Tribune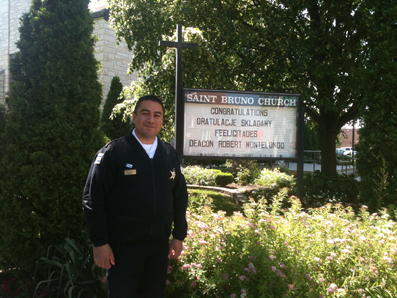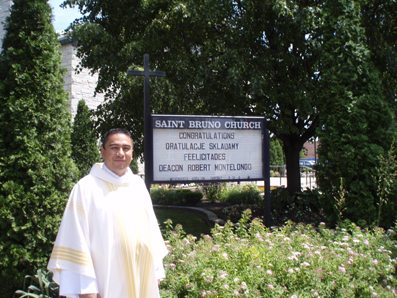 Congratulations to Chaplain Bob Montelongo on the occasion of your ordination to the Diaconate on 25 MAY 2012! "Deacon Montelongo" sure has a nice ring to it! - Picture taken 03 JUN 2012 in front of Bob's parish, St. Bruno, on the southwest side.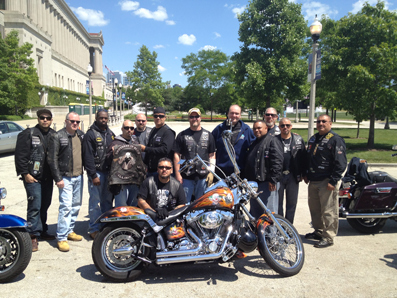 BROTHERS IN BLUE, CPD's official Motorcycle "Gang," after Fr. Dan Brandt conducts their annual BLESSING OF THE BIKES at Gold Star Memorial and Park on Saturday, 02 JUN, 2012. Safe travels, men!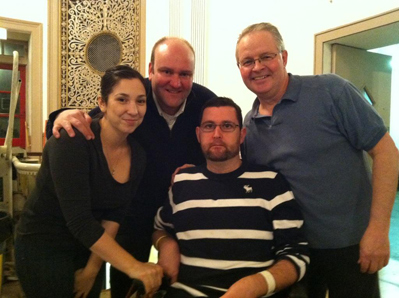 Western Australian Police Officer Ryan Marron, receiving treatment in Chicago for a rare disease he caught in the Outback, along with his girlfriend, Toni (also a P.O. in Western Australia). Joining them are Police Chaplain Fr. Dan Brandt and and Sergeants' Association member Bob Kirchner. God bless the Sergeants' Association for their incredible hospitality and fraternal kindness to our brother from down under!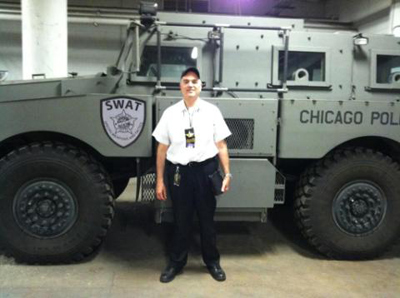 20 MAY 2012 - Rabbi Moshe Wolf stands at attention outside his vehicle at the 2012 NATO Summit.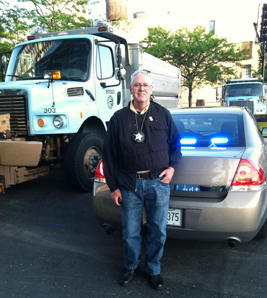 What a stretch: CFD Retiree Jim McCormick stands guard over (desperate) Fr. Dan Brandt's CPD car in the NATO hot zone at 22nd and Michigan Ave.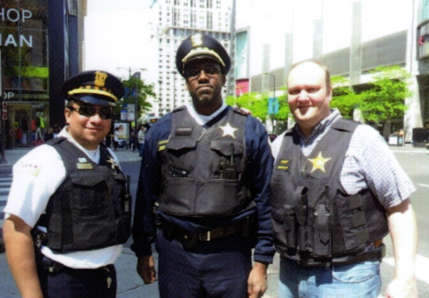 The calm before the storm: Chaplains Bob Montelongo, Joe Jackson and Dan Brandt at a post on Michigan Avenue the Friday before the NATO Summit: 18 MAY 2012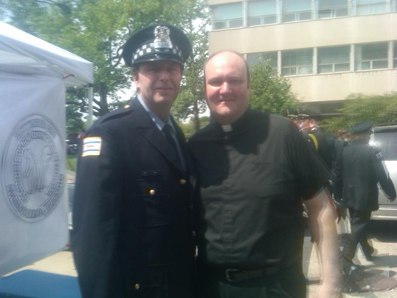 Chicago P.O. Brian Warner (018) and CPD Chaplain, Fr. Dan Brandt, at the Police Memorial in Springfield, IL (May, 2012). May our fallen officers rest in peace!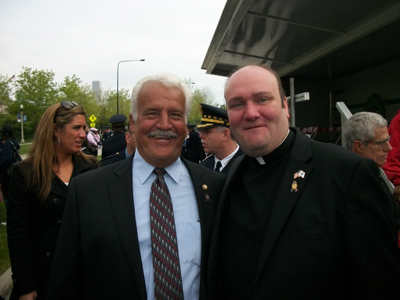 Pat Camden, retired Chicago Police Spokesman, and Fr. Dan Brandt, Director of the Chicago Police Chaplains Unit, share a light moment at the annual St. Jude March on Sunday, 06 MAY 2012.

At the annual St. Jude March on Sunday, 06 MAY 2012, Fr. Dan Brandt, Director of the Chicago Police Chaplains Unit, reads the roll call of our officers who have died in the past year.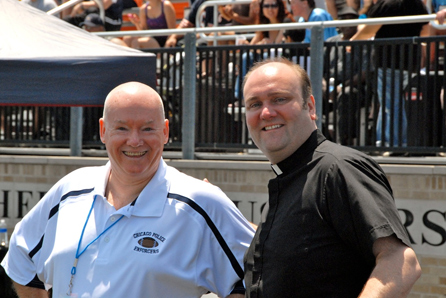 Dan Dugan and Fr. Dan Brandt share a laugh on the sidelines of the CFD Blaze vs.CPD Enforcers vs. CFD Blaze football game Sunday, 03 June 2012, at Brother Rice High School . CFD got the last laugh, though, winning an exciting game 19-13.

Chaplain Bob Montelongo and his son, Bobby, along with Fr. Dan Brandt, get their heads shaved on 23 MAR 2012 at the Police Academy. They do so to raise funds and awareness for children's cancer research through St. Baldrick's Foundation. THANKS to all who donated to such a great cause!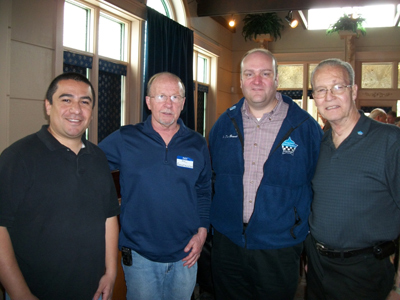 L-R CPD Chaplain Bob Montelongo, Retired PO Al Piantkowski, CPD Chaplain Fr. Dan Brandt and Retired PO Phil Haskett, 26 APR 2012 at 018th District retiree luncheon at Marcello's Father and Son Pizza on North Avenue. A good time was had by all!
Back to top of the page
Photo Album
2011 2012 2012 2013 2014 2015 2016 2017 2018 2019 2020 2021 2022 2023