Photo Album for 2013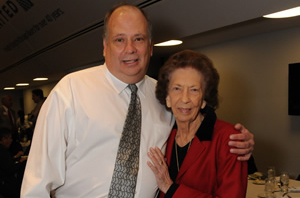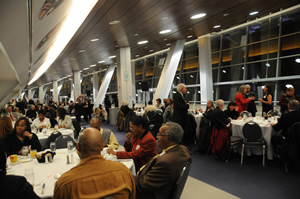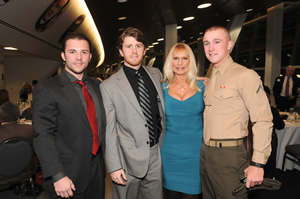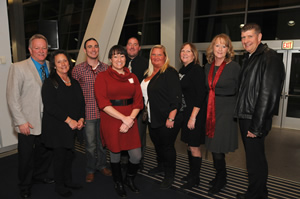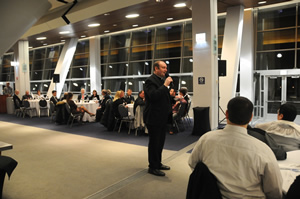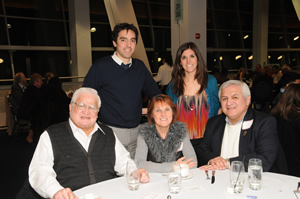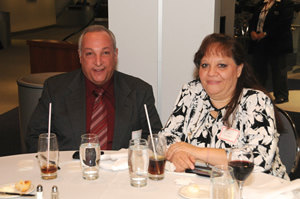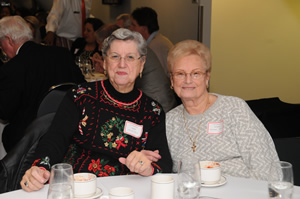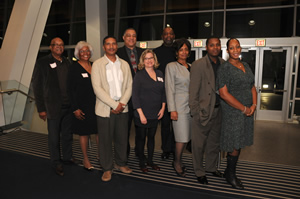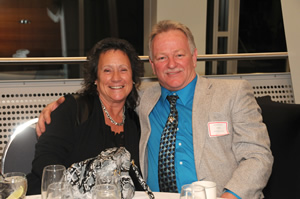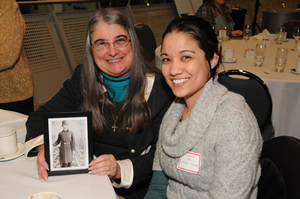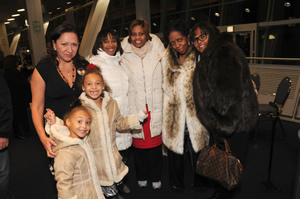 Police Chaplains Ministry again hosted our beloved Gold Star Families at an annual Christmas dinner on 05 DEC 2013. As you can see, a wonderful evening was enjoyed by all. YOUR support of our ministry makes such occasions possible.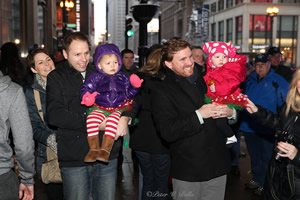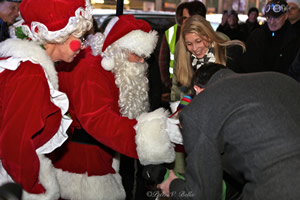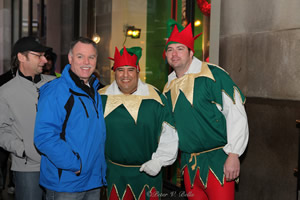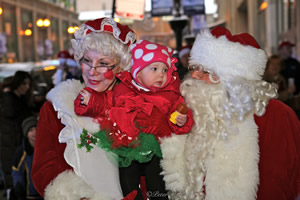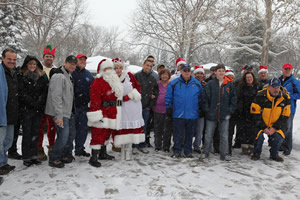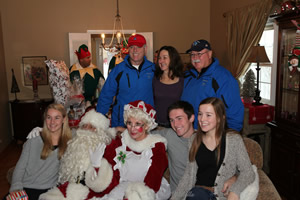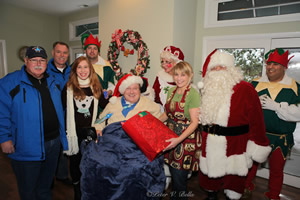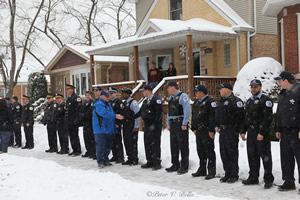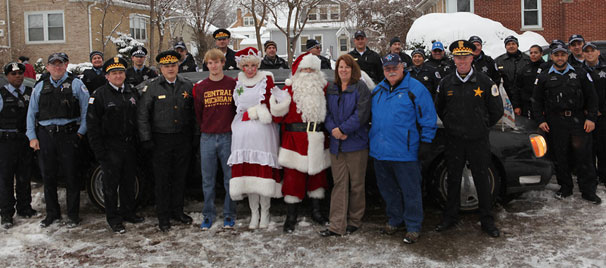 On the weekend of 14/15 DEC 2013, Santa and Mrs. Claus were driven once again in the Secret Service's Presidential Limousine to the homes of Gold Star Families...those who have lost (or had catastrophically injured) a loved one in the line of duty. Our elves are off-duty police officers, the gifts are from Macy's, all present are volunteers, and the entire weekend is choreographed by the Chicago Police Memorial Foundation.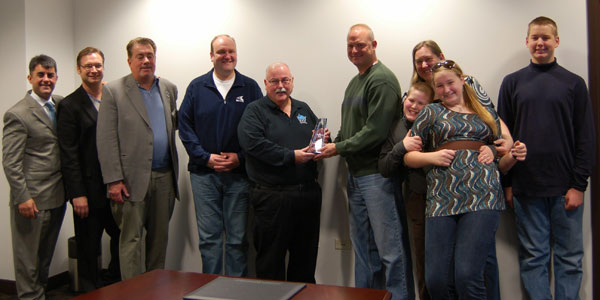 12 NOV 2013 - 006th District PO James Gochee accepts the November 2013 OFFICER OF THE MONTH award from Phil Cline, Executive Director of the Chicago Police Memorial Foundation (CPMF). Jim is honored for his near-death experience while serving a search warrant, as well as his continued exemplary brave and selfless service to the people of Chicago. Looking on are (left side) CPMF Board of Directors and (right side) Jim's family.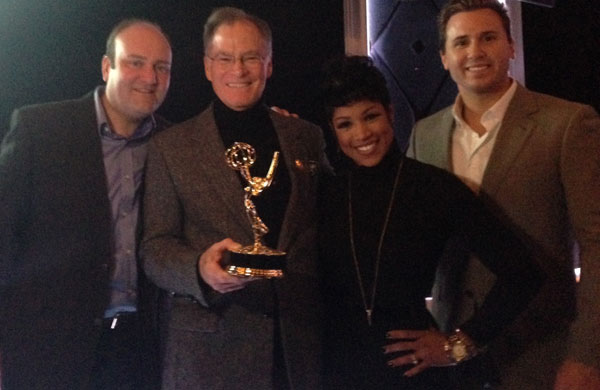 07 NOV 2013 - Showing off a real Emmy Award at the Paris Club on Hubbard is 100 Club CEO Joe Ahern, flanked by CPD Chaplain Fr. Dan Brandt and ABC TV morning show Windy City Live co-hosts Val Warner and Ryan Chiaverini.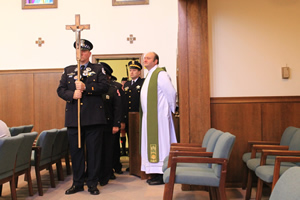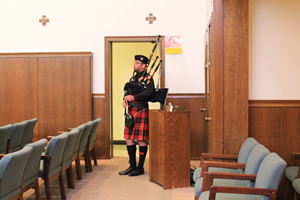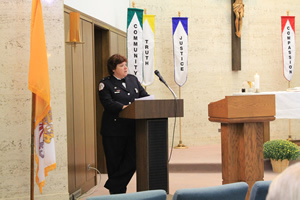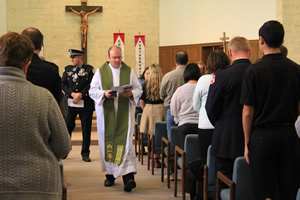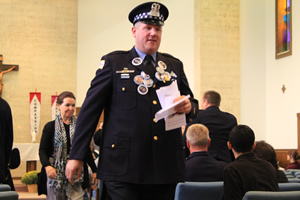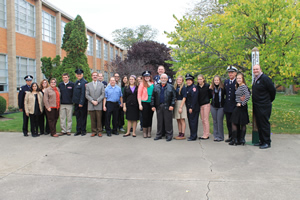 On Sunday, 20 OCT 2013, Queen of Peace High School in Burbank hosted a Police and Fire Mass, where we prayed for the safety and well-being of first responders. Refreshments were served after the Mass, and a good time was had by all.
Back to top of the page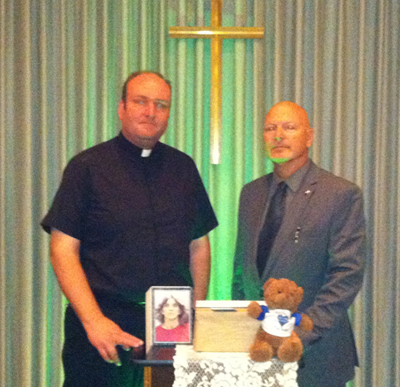 CPD Detective Mark Czworniak identified a Jane Doe whose body was found in Englewood. After contacting the young woman's out-of-state family, he learned their intentions and followed them, securing a Chicago funeral home to cremate the body and sending the remains to her parents. Before the woman's home-going, we (as has been done in similar instances in the past) hosted a simple but beautiful prayer service at the funeral home on 10 OCT 2013. May God's unconditional mercy be with this woman and God's blessings be with her family. Rest in peace, Stacy.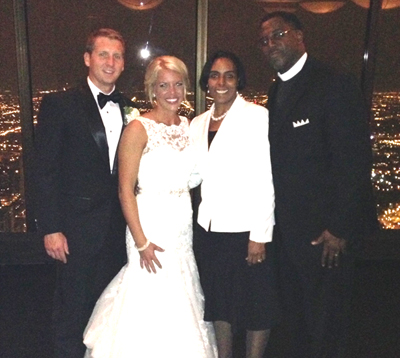 Chaplain Joe Jackson had the honor of celebrating the marriage of PO Kyle Burns and his new wife, Sarah, on the 95th floor of the John Hancock Center Saturday, 06 OCT 2013. Pictured between Joe and the happy couple is Joe's wife, Christine.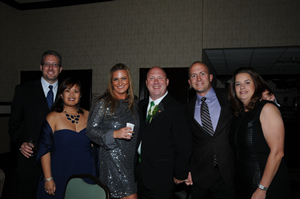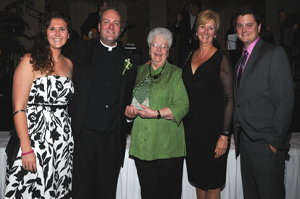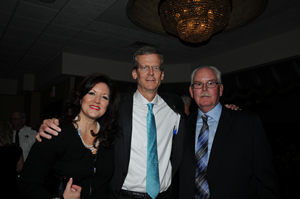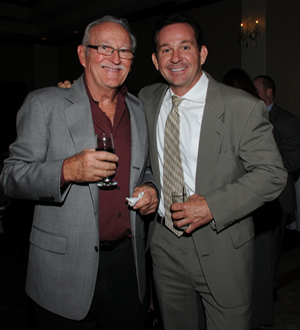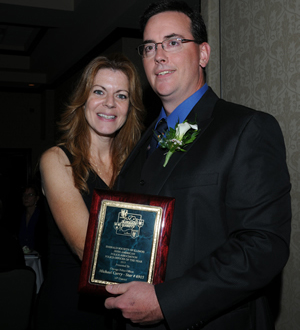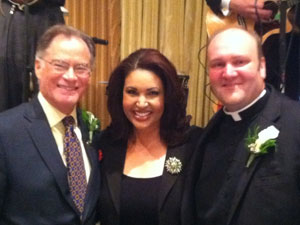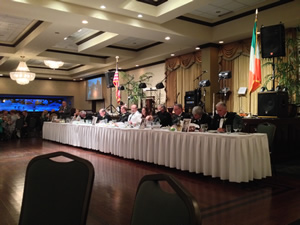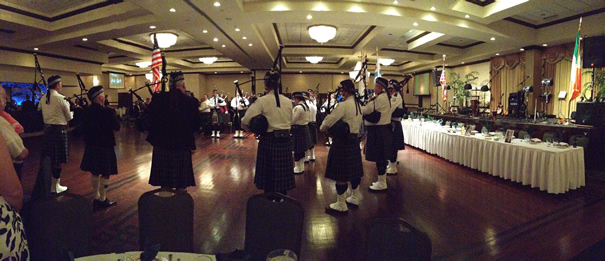 A good time was had by all at the annual Emerald Society of Illinois (Irish American Police Association) dinner dance on Friday, 27 SEP 2013. Our own Fr. Dan Brandt was named Irishman of the Year, and PO Mike Curry named Irish Police Officer of the Year. Thank you to the Emerald Society for all you do for those in law enforcement!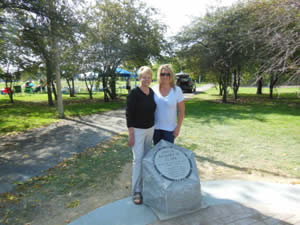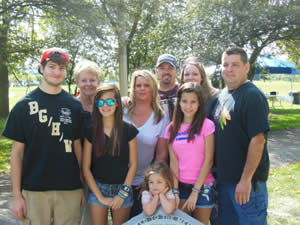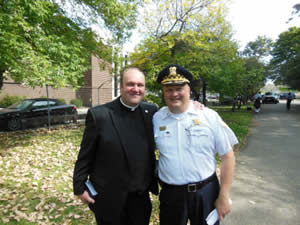 P.O. Richard Clark (EOW 03 APR 1986) was remembered at a memorial service on 28 SEP 2013, dedicating a beautiful and fitting memorial at the park named in his honor on Chicago's northwest side. For more information on our fallen officers, please visit our Line-Of-Duty death memorial page.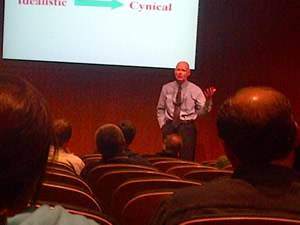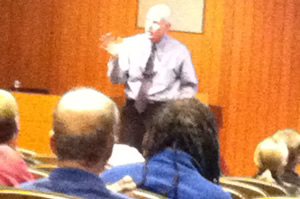 Renowned author Dr. Kevin Gilmartin presented a course on emotional survival for law enforcement professionals. The all-day workshop was co-sponsored by the Chaplains Unit, the Chicago and Oak Brook Police Departments, the Chicago Police Memorial Foundation and Motorola.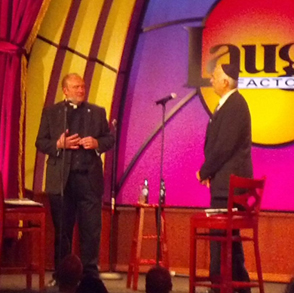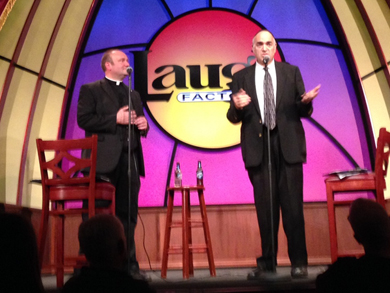 Rabbi Moshe Wolf and Fr. Dan Brandt were invited to enter the "Funniest Cop in Chicago" comedy competition at The Laugh Factory on Chicago's north side on 24 SEP 2013. A great time was had by all. Proceeds from the evening went to the 100 Club of Chicago, assisting families of first responders who died in the line of duty.
Congratulations to PO Pat McGrath (Canine Unit) who won first place!
Back to top of the page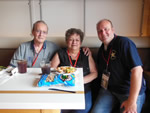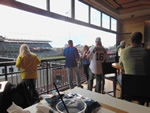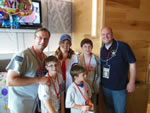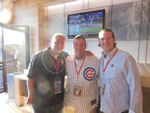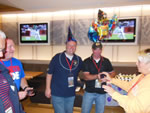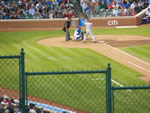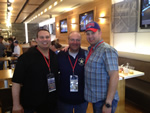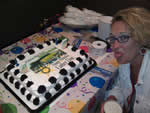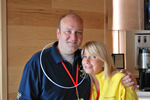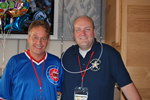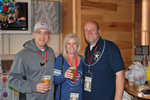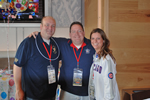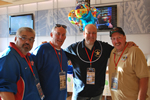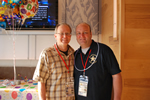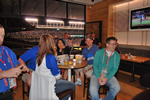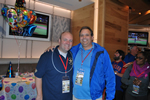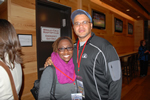 Our sold-out August 13th rooftop fundraiser party at Wrigley Field was a great success. THANKS to all who supported the cause!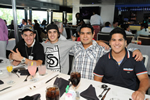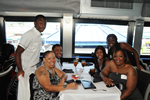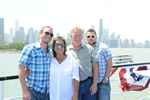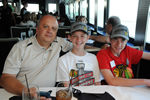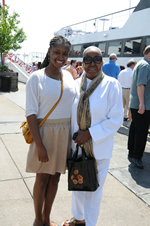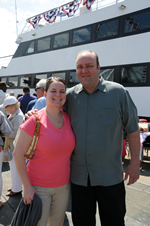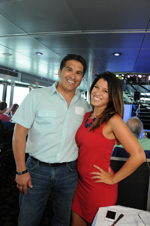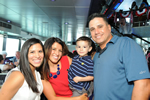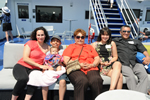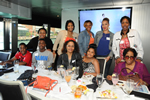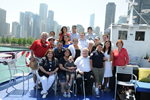 On 30 JUN 2013, 207 Gold Star Families were guests of Police Chaplains Ministry for a luncheon cruise aboard the Spirit of Chicago. Thanks to your generosity, we took care of every last detail...from VIP parking at Navy Pier, through lunch, to photos and souvenirs. A great time was had by all.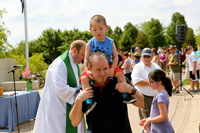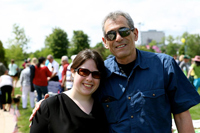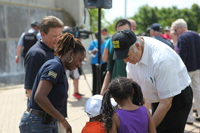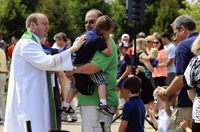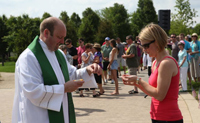 For a second year in a row, rain was predicted but Mother Nature came through with a beautiful day for the annual Fathers Day Mass at Gold Star Families Memorial and Park on 16 JUN 2013. 200+ police family members and supporters attended.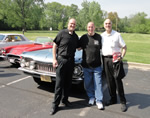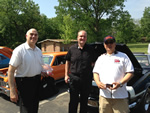 Joining hundreds of Chicago Gearheads car enthusiast club members, Rabbi Moshe Wolf and Fr. Dan Brandt have the honor of leading the annual car blessing at Bunker Hill Woods on Sunday, 19 MAY 2013. Safe motoring, friends!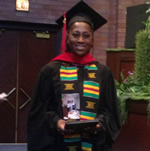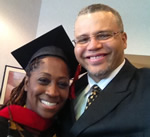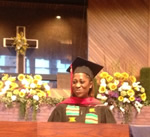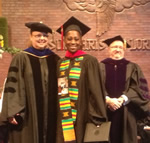 Chaplain Kimberly Lewis-Davis graduates from Chicago Theological Seminary 18 MAY 2013, having studied five years at the graduate level and earning her Master of Divinity (M.Div.) degree. Congratulations, Kim!!


The Board of Directors of Police Chaplains Ministry meets three times per year to assist Fr. Brandt and oversee the behind-the-scenes operation of the nonprofit organization. Members are (L-R): Fr. Dan Brandt, James Maurer, Brian Warner, Patricia McCormick, Patrick Mahoney, Barney Flanagan, John Staggs and Tom Stack.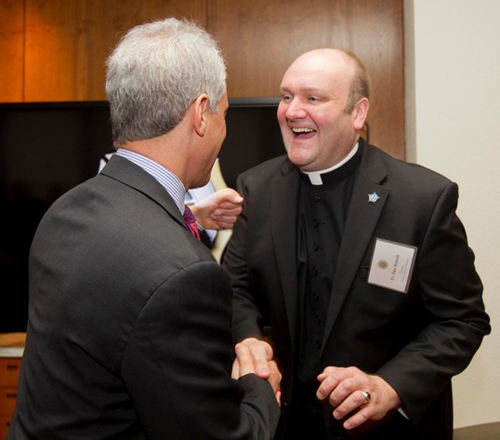 Mayor Emanuel and Fr. Brandt share a light moment at a 100 Club breakfast event on 17 APR 2013.
For a smaller guy, the mayor sure has a mean left hook!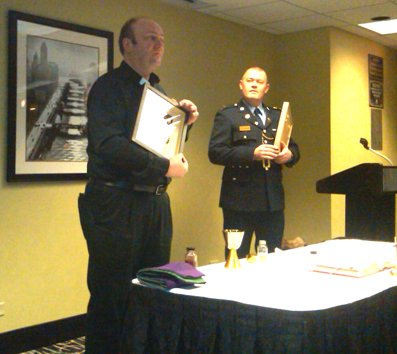 Fr. Dan Brandt accepts a plaque from Ken O'Connor of the Cork (Ireland) Police Department. As guests of the Emerald Society of Illinois, 60 Irish officers (called "Garda") attended Mass offered at their hotel just before marching in the downtown Chicago St. Patrick's Day parade on Saturday, 16 MAR 2013.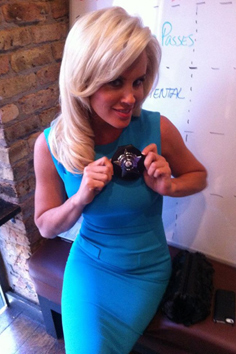 Yes, that's actress/model Jenny McCarthy sporting a CPD star. No, she didn't get on the job; that's her cousin's star ... but if she did, word has it Fr. Brandt and Rabbi Wolf would be petitioning for her to get detailed to the Chaplains' Section!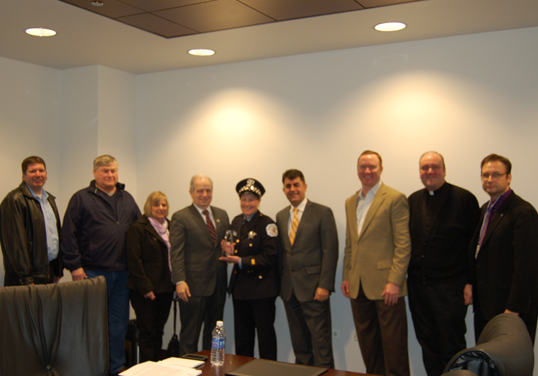 Police Officer Susan Doody (008) is awarded a life-saving award and the Chicago Police Memorial Foundation's "Officer of the Month Award" in January, 2013. She saved the life of a young boy who stopped breathing. Good job, Officer Doody!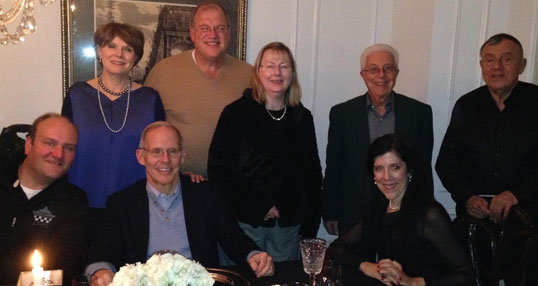 And again in November 2013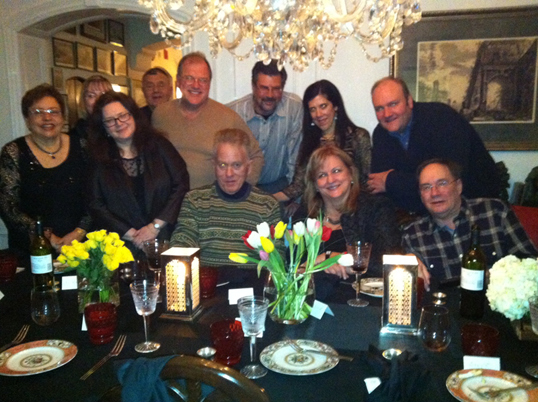 26 JAN 2013: CPD Chaplain Fr. Dan Brandt (top right) enjoys the company of ten active and retired supervisory members of the Canadian Royal Mounted Police, eh. Thank you, George and Sally, for your hospitality!
Back to top of the page
Photo Album
2011 2012
2013
2014
2015
2016
2017
2018
2019
2020
2021
2022
2023