Photo Album for 2017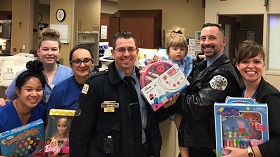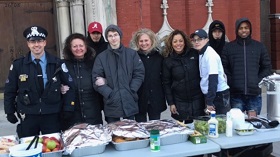 014th District Officers Mike Edens and Tom McNamara remember the "Serve" aspect of "We Serve and Protect" as they hand out food to hungry folks and gifts to hospitalized children in
December 2017.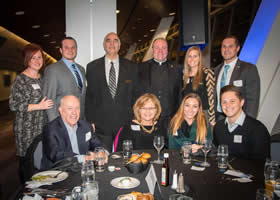 On 30 NOV 2017, Police Chaplains Ministry hosted hundreds of Gold Star Family members at an elegant holiday dinner on the Club Level of Soldier Field. It was a wonderful opportunity to remind these cherished friends that the sacrifice their family made will NEVER be forgotten!
Click for PC Slideshow
or
Click for Mobile Slideshow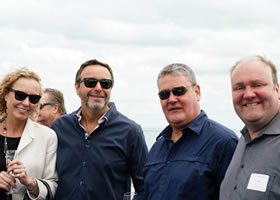 2017 Luncheon Cruise for Gold Star Families
Click for PC Slideshow
or
Click for Mobile Slideshow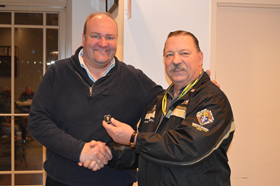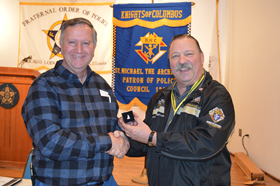 24 OCT 2017 - Grand Knight of the Knights of Columbus St. Michael the Archangel Police Council extends his greeting and a lapel pin to Fr. Dan Brandt and former Grand Knight Mike Schumacher.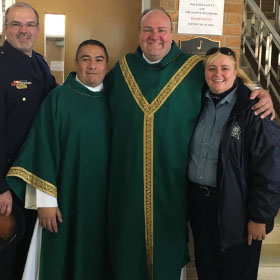 On Sunday, 29 OCT 2017, a Blue Mass was celebrated at St. Thecla Parish on the northwest side.

Pictured here are Pat Moriarty (Cook County Sheriff's Police), Deacon (CPD Officer/Chaplain) Bob Montelongo, Fr. Dan Brandt, and CPD Officer Sonia Moriarty (014).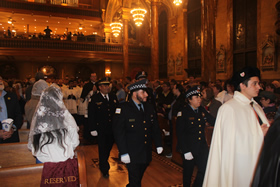 13 Oct 2017 St. John Cantius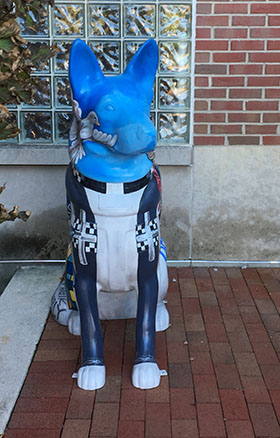 The Police Chaplains Ministry is proud to support the joint effort of the Chicago Police Memorial Foundation and PAWS by sponsoring a K9 Officer! Our new mascot, Micah, can be found in the courtyard at the Mercy Home for Boys & Girls located at 1140 W Jackson Blvd
(also where our bi-monthly Police Masses are held).
For more information on the joint effort, Click >>HERE<<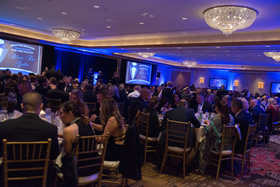 30 SEP 2017 - The Brotherhood For The Fallen's inaugural "Blue Tie Gala" was a screaming success. A sold-out crowd enjoyed a star-studded evening with guest speakers including National Rifle Association of America President Peter Brownell.
Click for PC Slideshow
or
Click for Mobile Slideshow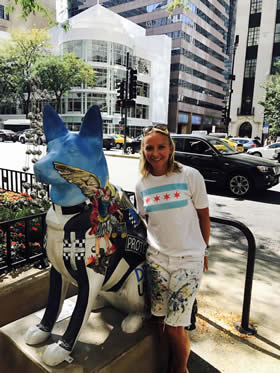 The Chicago Police Memorial Foundation is partnering with PAWS Chicago for this 2017 public art campaign featuring Chicago K9 Officers. Funds raised will support the important missions of both the CPMF and PAWS Chicago. Click >>HERE<< for more information.
Click for PC Slideshow
or
Click for Mobile Slideshow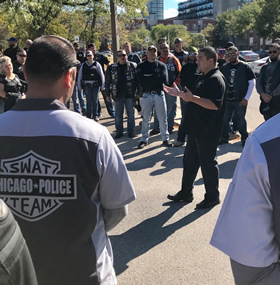 A memorial ride was held 30 SEP 2017 for PO Charles Barango on the anniversary of his untimely passing. Here, Chaplain Bob Montelongo blesses hundreds of motorcycles and riders participating in this inaugural voyage. Safe travels, bikers!
Click for PC Slideshow
or
Click for Mobile Slideshow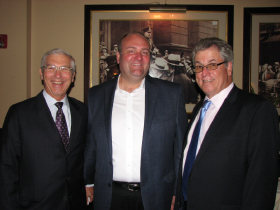 On 21 SEP 2017, Fr. Dan Brandt joins the Special Agents' Association at a dinner in Oak Brook to present on the work of Police Chaplains Ministry. Pictured here are SAA members Jim Keating and John Lucki. Thank you, SAA, for your support of PCM!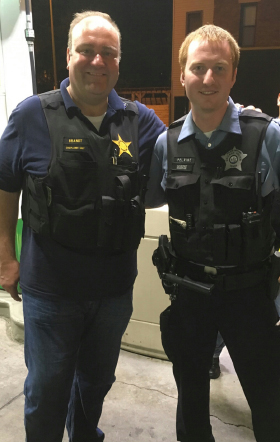 Police Officer Mike Pelrine (former Skokie IL officer), making a difference at a 3:00 a.m. disturbance call on 21 SEP 2017 at Fullerton and California (in 014). Keep up the great work, Mike! We're blessed to have you.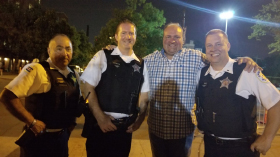 Walking through "Riot Fest" on 16 SEP 2017, Fr. Dan Brandt visits with some of the 010th district supervisors working that evening. Thank God for ear plugs!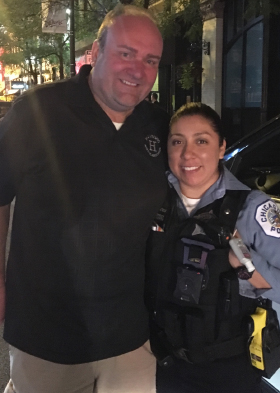 16 SEP 2017: PO Nora Valdes takes a moment from fighting crime in 018 to pose for a picture with Fr. Dan Brandt, making the rounds in her district. Keep up the great work, Nora!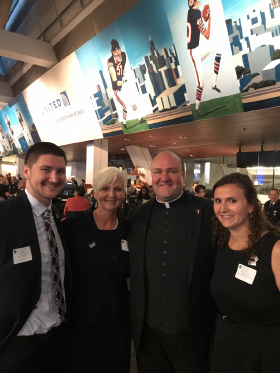 At the reception preceding the Candlelight Vigil on 14 SEP 2017, Fr. Dan Brandt is flanked by family members: nephew Kevin Hannon, sister Terry Hannon and niece Bridget Schuda.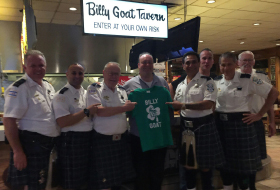 Following the Chicago Police Memorial Foundation Candlelight Vigil on 14 SEP 2017, members of the Emerald Society retire to their favorite spot: The Billy Goat Tavern. Thank you, Emerald Society, for sharing your talent with such worthy causes as the Memorial Foundation.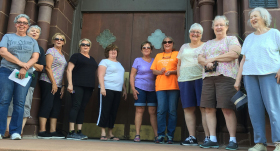 A faithful group of parishioners from St. Gabriel Catholic Church in Canaryville gather on the church steps every Wednesday at 6:30 p.m. to pray the Rosary for the police. Yes, every week, you're being prayed for by these good people who carve time out of their weekly schedule and represent a grateful city.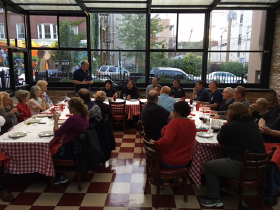 The Upper Room Club gathering on 06 SEP 2017 featured Fr. Chris Kerkeres, a Greek Orthodox priest, who offered a presentation on the history and tenets of his rich tradition to a most captivated audience.
Back to top of the page

On 10 AUG 2017, the Pipes and Drums of the Emerald Society hosted a group of police officers from Australia at a ceremony at Gold Star Families Memorial and Park. Pictured here is Fr. Dan Brandt with retired PO Bruce Quintos, both proud members of the Emerald Society.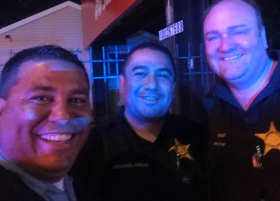 09 AUG 2017 -- A quick photo op with PO Eirberto Diaz (012), Chaplain Bob Montelongo and Fr. Dan Brandt at the scene of a 10-1 call at Grand and Western Avenues. Notice our faces are blue...that's from the sea of blue lights lining the intersection. Keep looking out for each other, brothers in blue!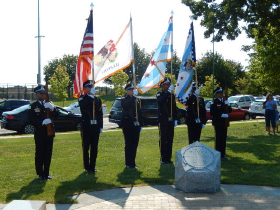 On Saturday, 05 AUG 2017, we dedicated the new location of PO Richard Clark's memorial on Rockwell Street, just south of Addison Street. This new, more prominent location will allow more Chicagoans to visit this landmark and pay their respects to this hero whose life was taken 31 years ago. Check it out next time you're near the old 019th District station!
Click for PC Slideshow
or
Click for Mobile Slideshow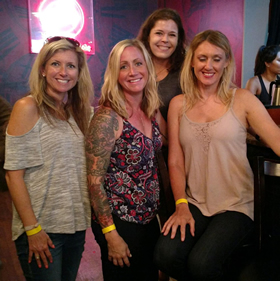 On Thursday, 20 JUL 2017, The Rabbit Hole hosted a fundraiser for us. It was a great success, raising funds for Police Chaplains Ministry and our outreach to the Gold Star Families. Thanks to the HUNDREDS AND HUNDREDS who came out!
Click for PC Slideshow
or
Click for Mobile Slideshow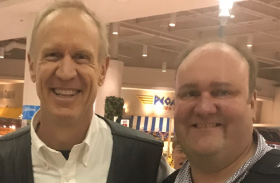 12 JUL 2017 A governor who respects the police and the thankless but vital work done by God's selfless servants.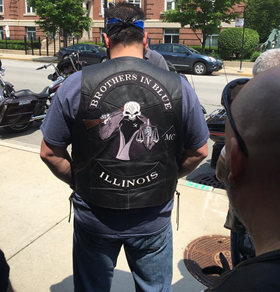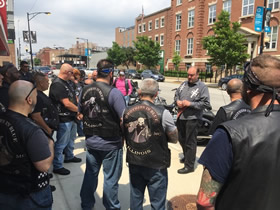 On Sunday, 28 MAY 2017, the Brothers In Blue Motorcycle Club had their bikes blessed after the police Mass at Mercy Home for Boys and Girls. Mother Nature gave them a beautiful day for their inaugural ride. Safe travels, brothers! And thank you for your constant generous support of Police Chaplains Ministry.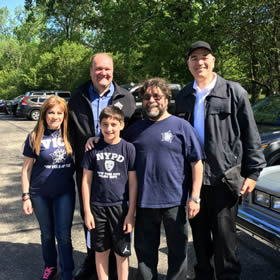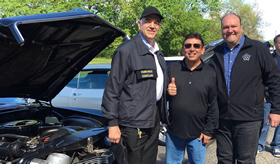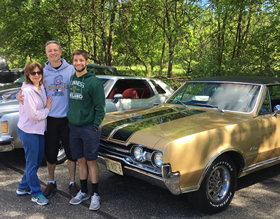 On Saturday, 20 MAY 2017, Chicago Gearheads hosted their annual spring car blessing. Despite threats of rain, we enjoyed PERFECT weather.
Click for PC Slideshow
or
Click for Mobile Slideshow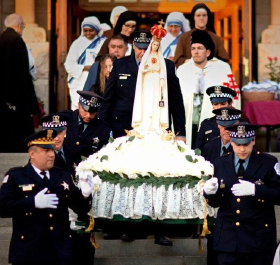 CPD officers escort the statue of Our Lady of Fatima from St. John Cantius Church in West Town on Saturday, 13 MAY 2017, marking the 100th anniversary of the Blessed Mother's apparition to three shepherd children in Fatima, Portugal.

On the left are Chaplain Bob Montelongo followed by Terry Oates and Eric Valdes. On the right are Freddy Delgadillo, Tim Oates and Theresa Kelly. Following the procession is Nick Chapello.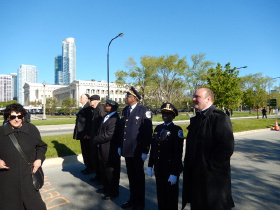 Thousands and thousands of police officers from Chicago and many other jurisdictions marched with pride at our Annual St. Jude Police League memorial March held Sunday, 08 MAY 2017. Representing the CPD Chaplains Unit and St. Jude League are (L-R) Rabbi Moshe Wolf, Fr. Mark Brummel, Bertrand Smith, CPD Chaplain Joe Jackson, CPD Chaplain Kimberly Lewis-Davis, and Fr. Dan Brandt. Making a cameo appearance in the photo is criminal courts Judge Peggy Chiampas.

On the floor of the Illinois House of Representatives after leading prayer at a legislative session on 28 MAR 2017, Fr. Dan Brandt is joined by PO Pat McGrath, PO/Chaplain Bob Montelongo, and Andy Brandt.


At the 17 MAR 2017 St. Patrick's Day party sponsored by Brotherhood for the Fallen were (L-R) Joe Fronczak, Nick Forrestal, Andy Cassaro, Fr. Dan Brandt, Brian Warner, Marty Natividad, Mary O'Callaghan and Kevin Leahy. Congratulations to Nick, Andy, Marty and Mary, members of recruit class 97-1A, who that evening celebrated their 20th anniversary on the job!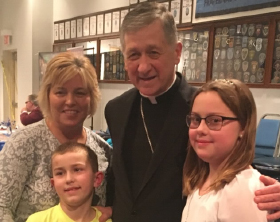 On 16 FEB 2017, the CPD SURVIVORS hosted a resource night at the FOP hall. Featured were many resources and outreaches available to CPD members and retirees. Live music, a bar, delicious food, and a raffle with great prizes were also available to the hundreds who attended. Even Cardinal Blase Cupich, Archbishop of Chicago, stopped by!
Click for PC Slideshow
or
Click for Mobile Slideshow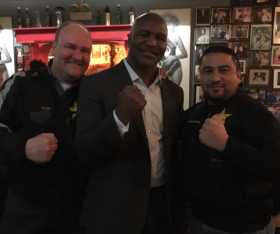 Chaplains Bob Montelongo and Fr. Dan Brandt had the honor of enjoying dinner at the same table with world-champion boxer Evander Holyfield on 15 FEB 2017. Though Evander declined our challenge to take him on in the ring (clearly he was scared), he DID oblige our request for this photo. What a gentleman!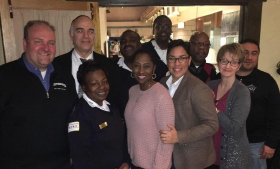 On 04 JAN 2017, the St. Jude Police League hosted our volunteer St. Jude League chaplains to a new year's dinner at Greek Isles Restaurant. Thank you to our St. Jude League board ... and to the many volunteer chaplains who lead prayers at CPD family members' wake services.

Click for PC Slideshow
or
Click for Mobile Slideshow
Back to top of the page
Photo Album
2011 2012 2013 2014 2015 2016 2017 2018 2019 2020 2021 2022 2023