Photo Album 2018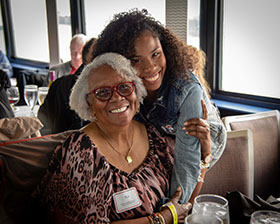 On Sunday, 20 MAY, thanks to the generosity of our supporters, we took our beloved Gold Star Families on our 23rd annual luncheon cruise aboard the Spirit of Chicago. As you can see, a great time was had by all.
Click for Slideshow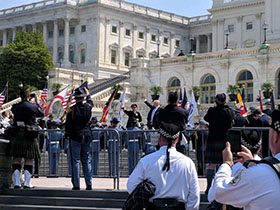 May 13-15, 2018, our Emerald Society of Chicago served as the lead pipe/drum band for the 2018 National Law Enforcement Officers Memorial services in Washington DC. They had the honor of playing for President Donald Trump, whom you'll see with them in one of the following pictures. 199 fallen law enforcement officials from around the country were honored at the ceremonies.
Click for Slideshow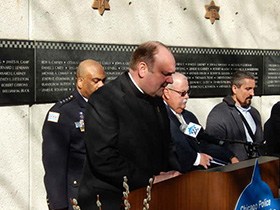 On Friday, 20 APR 2018, about 100 people gathered to honor four CPD members who died in the line of duty and whose names were added to the wall at Gold Star Families Memorial and Park. They are Joseph Palczynski, Bernard Domagala, Andre Van Vegten, Paul Bauer and Frank Hourihan. May these brave souls rest in peace.
Click for Slideshow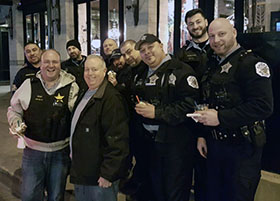 On 21 MAR 2018, Captain Mel Roman visits with officers in different places throughout the 018th district to offer them ice cream sundaes -- custom made by the captain and two of his lieutenants right in the back of their Chicago Police SUV. They certainly put a lot of smiles on faces of our troops during their ice cream rounds on various days/nights.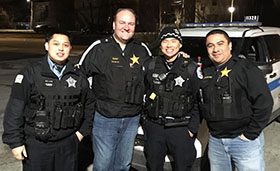 CPD Officers David DeLeon and Jason Fong pose for a picture when Chaplains Bob Montelongo and Fr. Dan Brandt bump into them on the street in the 011th District. Thank you, David and Jason, for making the west side a better place for residents to call home.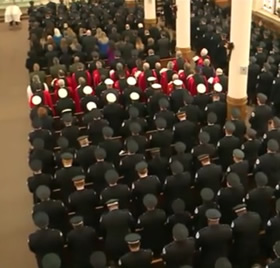 Rest In Peace, Commander Paul Bauer. You are a true Chicago hero. We love you.
Click for PC Slideshow
or
Click for Mobile Slideshow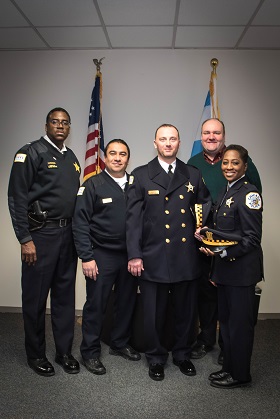 08 JAN 2018 Chaplains Joe Jackson, Bob Montelongo, Kimberly Lewis-Davis and Fr. Dan Brandt congratulate new department Chaplain Hysni Selenica following his swearing-in ceremony at police headquarters. Welcome aboard, Hysni!
Back to Photo Album